DREAMWORKS SPIRIT LUCKYS GROßES ABENTEUER
Wohin wird dich Luckys Schatzkarte führen? Du kannst als Lucky auf ihrem treuen Mustang Spirit in ein wildes Abenteuer reiten. Mit Luckys furchtlosen besten Freundinnen Abigail und Pru an deiner Seite ist Spaß garantiert.

Es wartet eine weitläufige Grenzregion voller spannender Aufgaben, Tiere und Gegenstände zum Sammeln darauf, erkundet zu werden. Aber es gilt auch Gefahren zu begegnen, wie z.B. dem Pferdedieb Hendricks, der sich ein wenig zu sehr für die Schatzsuche interessiert.

Während Spirit in deiner Obhut stärker wird und mit den Mädels, die stilvoll mit dir reiten, kannst du zu einem echten Mädchen vom Lande werden.

Wird du den wahren Schatz von Miradero finden und beschützen?
Verfügbar am




Jetzt kaufen!
DU KANNST LUCKY SEIN
Der Star in einem neuen Spirit-Abenteuer
Spielfunktionen
DEINE VERBINDUNG ZU SPIRIT
Du kannst deinen treuen Mustang striegeln und umarmen
DAS WEITE GRENZLAND
Eine wilde, offene Landschaft zum Erkunden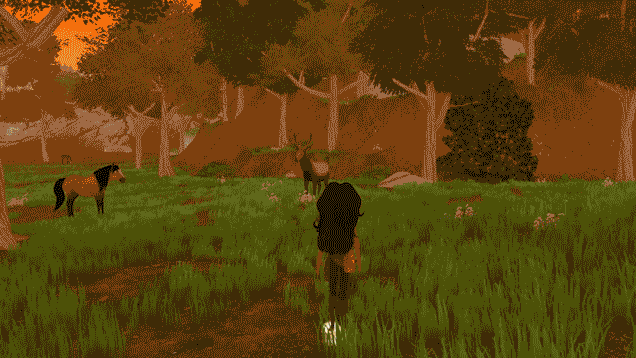 DEIN LEBEN
Du kannst Tiere retten, den Stadtbewohnern helfen, Fotos machen und mehr!
DAS WEITE GRENZLAND
Eine wilde, offene Landschaft zum Erkunde
DREAMWORKS SPIRIT LUCKY´S BIG ADVENTURE FAQs
The game has been rated by PEGI as suitable for ages 3+ and E for Everyone by ESRB meaning, it is fun for all the family!
This is an open world action-adventure game, filled with both a main adventure and lots of side quests. You will be able to explore Miradero and its outskirts at your own pace.
The game has full audio in English, French, Italian, German, Spanish (EFIGS) and subtitles in English, French, Italian, German, Spanish (EFIGS), Latin American Spanish, Simplified Chinese, Arabic, Korean and Dutch.
You can change the language by going to the Options menu in the main screen.
DreamWorks Spirit Lucky's Big Adventure is available for PS4, Xbox, Steam and Nintendo Switch platforms.  The game will also work on PS5 and Xbox Series X|S in backwards compatibility mode.
The game is Single Player only.
To play on PC STEAM you will require a controller that plugs in to your computer.
Requires a 64-bit processor and operating system
OS: Windows 10 64-bit
Processor: Intel Core i5-4430 | AMD FX-4350
Memory: 4 GB RAM
Graphics: Nvidia GeForce GTX 660, 2 GB | AMD Radeon HD 7850, 2 GB
DirectX: Version 11
Storage: 4 GB available space
Sound Card: DirectX compatible soundcard
Patch 1.0.1:
Reduced loading pauses during gameplay
Updated translations for some Spanish and French terms
Various bug fixing