DREAMWORKS SPIRIT LA GRAN AVENTURA DE FORTU
¿Dónde te llevará el mapa del tesoro de Fortu? Cabalga con Fortu en su fiel caballo Spirit y empieza una nueva aventura salvaje.

Te lo pasarás genial con las valientes amigas de Fortu, Abigaíl y Pru, a tu lado. Hay toda una frontera para explorar, llena de aventuras emocionantes, animales y objetos para coleccionar.

Enfréntate a peligros, como el malvado vaquero Hendricks, que parece tener demasiado interés en tu búsqueda del tesoro. Con Spirit creciendo fuerte bajo tus cuidados y las coleguis cabalgando juntas con estilo, te convertirás en una auténtica vaquera.

¿Podrás encontrar y proteger el auténtico tesoro de Miradero?
Disponible en




SÉ FORTU
Protagoniza una nueva aventura de Spirit
Características del juego
TU VÍNCULO CON SPIRIT
Cuida y abraza a tu fiel caballo
MUESTRA TU ESTILO
Utiliza la ropa y objetos que recojas para personalizar completamente el look de Fortu como tu quieras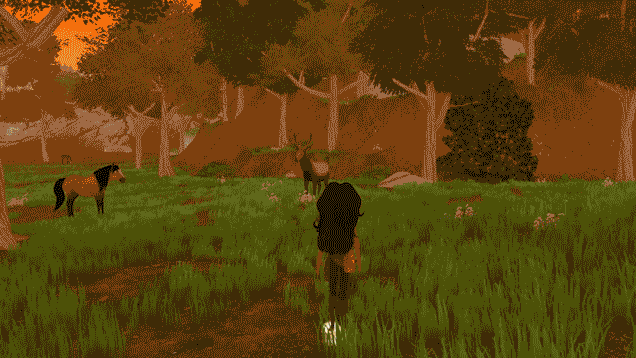 VIVE LA VIDA
¡Rescata animales, ayuda a la gente del pueble, saca fotos y mucho más!
CABALGA POR LA FRONTERA
Explora un amplio paisaje salvaje
DREAMWORKS SPIRIT LUCKY´S BIG ADVENTURE FAQs
The game has been rated by PEGI as suitable for ages 3+ and E for Everyone by ESRB meaning, it is fun for all the family!
This is an open world action-adventure game, filled with both a main adventure and lots of side quests. You will be able to explore Miradero and its outskirts at your own pace.
The game has full audio in English, French, Italian, German, Spanish (EFIGS) and subtitles in English, French, Italian, German, Spanish (EFIGS), Latin American Spanish, Simplified Chinese, Arabic, Korean and Dutch.
You can change the language by going to the Options menu in the main screen.
DreamWorks Spirit Lucky's Big Adventure is available for PS4, Xbox, Steam and Nintendo Switch platforms.  The game will also work on PS5 and Xbox Series X|S in backwards compatibility mode.
The game is Single Player only.
To play on PC STEAM you will require a controller that plugs in to your computer.
Requires a 64-bit processor and operating system
OS: Windows 10 64-bit
Processor: Intel Core i5-4430 | AMD FX-4350
Memory: 4 GB RAM
Graphics: Nvidia GeForce GTX 660, 2 GB | AMD Radeon HD 7850, 2 GB
DirectX: Version 11
Storage: 4 GB available space
Sound Card: DirectX compatible soundcard
Patch 1.0.1:
Reduced loading pauses during gameplay
Updated translations for some Spanish and French terms
Various bug fixing