DREAMWORKS SPIRIT LA GRANDE AVVENTURA DI LUCKY
Dove ti condurrà la mappa del tesoro di Lucky? Cavalca nei panni di Lucky in una nuova avventura selvaggia con il suo fedele mustang, Spirit.

Ti divertirai un sacco con le coraggiose migliori amiche di Lucky, Abigail e Pru, al tuo fianco. C'è una sconfinata frontiera piena di missioni emozionanti, animali e oggetti da collezionare. Affronta i pericoli, come il malvagio guardiano di cavalli Hendricks, che è un po' troppo interessato alla tua caccia al tesoro.

Con Spirit che diventa sempre più forte grazie alle tue cure e cavalcando con stile insieme alle tue PAL, diventerai una vera cowgirl. Riuscirai a trovare e proteggere il vero tesoro di Miradero?
Disponibile su




NEI PANNI DI LUCKY
Vivi una nuova avventura con Spirit
Caratteristiche del gioco
LEGA CON SPIRIT
Spazzola e abbraccia il tuo fedele Mustang
MOSTRA IL TUO STILE
Usa abiti e oggetti che hai trovato per modificare completamente il look di Lucky e cambiarlo come vuoi.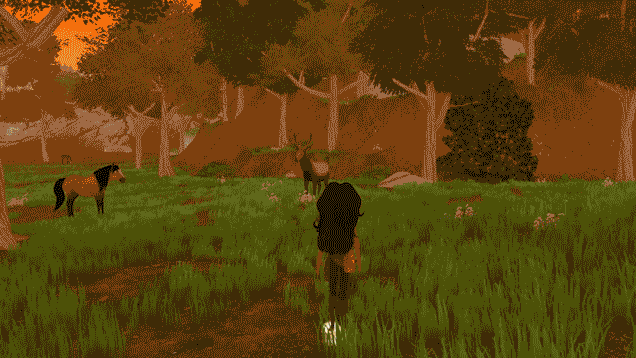 NUMEROSE ATTIVITÀ TI ATTENDONO
Salva gli animali, aiuta i cittadini, scatta fotografie e altro ancora!
CAVALCA LA FRONTIERA
Esplora un mondo selvaggio e sconfinat
DREAMWORKS SPIRIT LUCKY´S BIG ADVENTURE FAQs
The game has been rated by PEGI as suitable for ages 3+ and E for Everyone by ESRB meaning, it is fun for all the family!
This is an open world action-adventure game, filled with both a main adventure and lots of side quests. You will be able to explore Miradero and its outskirts at your own pace.
The game has full audio in English, French, Italian, German, Spanish (EFIGS) and subtitles in English, French, Italian, German, Spanish (EFIGS), Latin American Spanish, Simplified Chinese, Arabic, Korean and Dutch.
You can change the language by going to the Options menu in the main screen.
DreamWorks Spirit Lucky's Big Adventure is available for PS4, Xbox, Steam and Nintendo Switch platforms.  The game will also work on PS5 and Xbox Series X|S in backwards compatibility mode.
The game is Single Player only.
To play on PC STEAM you will require a controller that plugs in to your computer.
Requires a 64-bit processor and operating system
OS: Windows 10 64-bit
Processor: Intel Core i5-4430 | AMD FX-4350
Memory: 4 GB RAM
Graphics: Nvidia GeForce GTX 660, 2 GB | AMD Radeon HD 7850, 2 GB
DirectX: Version 11
Storage: 4 GB available space
Sound Card: DirectX compatible soundcard
Patch 1.0.1:
Reduced loading pauses during gameplay
Updated translations for some Spanish and French terms
Various bug fixing