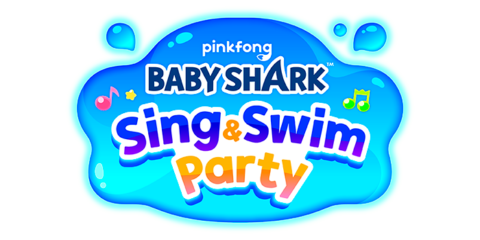 Baby Shark™: Sing & Swim Party
Swim across the wide waters with the Shark Family to enjoy the Fin-tastic Festival where you can watch performers sing, dance, and rock! Baby Shark™: Sing & Swim Party.

Sing and swim to fin-omenal songs from original videos including Baby Shark Dance and more. Journey through iconic ocean locations, like Tropical Bay, Ocean City, and more.

Choose from five customizable playable characters! Play your way with either runner or rhythmic modes and get rewarded with tons of musical cards that can be added to your album.

Are you ready to journey across the amazing sea? Jaw-some, let's go!
Available on

HELP THE SHARK FAMILY
Swim through iconic ocean locations and get them to the greatest festival
Swim and sing through the ocean and get the Shark Family to the Fin-tastic Festival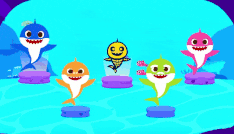 FAMILY PLAY

Play with your family and friends with local 4 player co-op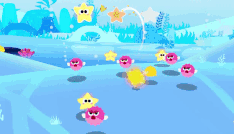 STRENGTHEN YOUR FINS

Collect stars whilst dodging blowfish or tap to the rhythm of the music to earn points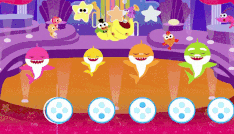 SWIM AND SING

Sing and dance along to jaw-some songs like Baby Shark, Doo Doo Doo Doo Doo Doo
YOU CAN DOO IT!
Collect tons of musical cards to add to your album
Check out the launch trailer!
We're going on a shark-tastic rhythmic adventure. It's time to sing and swim!
© The Pinkfong Company, Inc. All Rights Reserved. Pinkfong™ and Baby Shark™ are trademarks of The Pinkfong Company, Inc., registered or pending rights worldwide. All logos, names, characters, likenesses, images, slogans, and packaging appearance are the property of The Pinkfong Company, Inc. used under license by Outright Games Limited. Published by Outright Games Limited. Software © 2023 Outright Games Limited. Developed by RecoTechnology SL. All Rights Reserved.