The first RAINBOW HIGH™ video game is coming this September!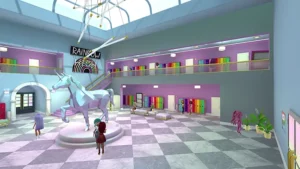 ANNOUNCEMENT! Do you or your kid love Rainbow High?! You'll want to mark your calendars: On September 22, 2023, get ready to play our new console game, RAINBOW HIGH™: RUNWAY RUSH. Join Ruby, Poppy, Sunny, Jade, Skyler, and Violet and let your true colours shine through creativity, fashion, and friendship.
In this colorful game, you'll help your Rainbow High BFFs by collecting rainbow diamonds, finding clues, unlocking the coolest outfits—and more!—in a series of fun mini-challenges. While you play, search for creative inspiration and bring the student's unique talents together to complete the ultimate challenge: presenting their first art assignment!
Now, if you're a fan of the show, then you probably know what awaits you beyond those grand white doors. Are you ready to enter the colorful world of Rainbow High?
From Rainbow High's iconic entrance and Student Lounge to the Fabric Studio and your favorite character's dorm room, the opportunities for exploration are as endless as the rainbow! But in case we haven't convinced you yet — or you're a new student! — take a look at the fun and creative spaces you'll be able to explore in the game:
Are you or your kid ready to Turn Your Color Up? Celebrate this exciting announcement and share your creativity with us by entering this colorful competition for your chance to win a copy of the game and the fashion dolls. (Only applicable to residents in the UK and USA) The competition ends the 10th May 2023.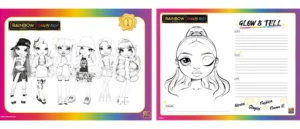 Set out your favorite outfit, save the date and we'll see you in September at Rainbow High!  #LetYourTrueColorsShine