DREAMWORKS SPIRIT LA GRANDE AVENTURE DE LUCKY
Où est-ce que la carte au trésor de Lucky te mènera-t-elle ? Incarne Lucky et chevauche Spirit, son fidèle mustang.

Vous allez vous amuser avec les courageuses meilleures amies de Lucky, Abigaëlle et Apo à tes cotés. Le far-west est immense et propice à l'exploration, rempli de quêtes excitantes, d'animaux et d'objets à collectionner. Fraie-toi un chemin à travers les dangers, comme le vil cowboy Hendricks, qui porte un peu trop d'intérêt à ta chasse au trésor.

Grâce à tes soins, Spirit se développera et avec les AB-LU-AP chevauchant avec classe, tu deviendras une vraie fille du far-west. Trouveras-tu, et protègeras-tu le vrai trésor de Miradero ?
Disponible sur




Acheter maintenant!
INCARNE LUCKY
Deviens l'héroïne de la nouvelle aventure de Spirit
Caractéristiques de jeu
LIES TOI D'AMITIÉ AVEC SPIRIT
Panse et câline ton fidèle mustang
CHEVAUCHE AVEC STYLE
Utilises les vêtements et objets que tu collectes pour personnaliser complètement l'apparence de Lucky et appropries toi le style de ton choix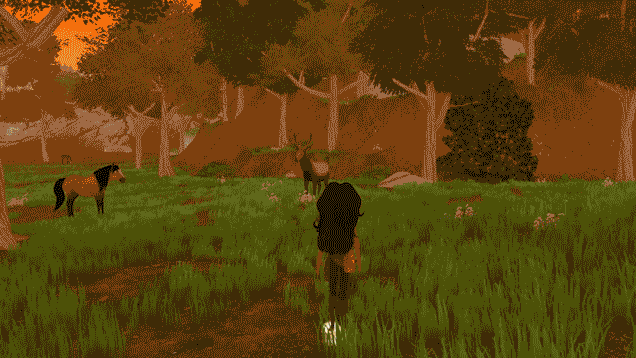 DE NOMBREUSES ACTIVITÉS T'ATTENDENT
Sauve des animaux, aide les habitants de la ville, prends des photos et plus encore !
GALOPE DANS LE FAR-WEST
Explore un paysage ouvert et sauvage
DREAMWORKS SPIRIT LUCKY´S BIG ADVENTURE FAQs
The game has been rated by PEGI as suitable for ages 3+ and E for Everyone by ESRB meaning, it is fun for all the family!
This is an open world action-adventure game, filled with both a main adventure and lots of side quests. You will be able to explore Miradero and its outskirts at your own pace.
The game has full audio in English, French, Italian, German, Spanish (EFIGS) and subtitles in English, French, Italian, German, Spanish (EFIGS), Latin American Spanish, Simplified Chinese, Arabic, Korean and Dutch.
You can change the language by going to the Options menu in the main screen.
DreamWorks Spirit Lucky's Big Adventure is available for PS4, Xbox, Steam and Nintendo Switch platforms.  The game will also work on PS5 and Xbox Series X|S in backwards compatibility mode.
The game is Single Player only.
To play on PC STEAM you will require a controller that plugs in to your computer.
Requires a 64-bit processor and operating system
OS: Windows 10 64-bit
Processor: Intel Core i5-4430 | AMD FX-4350
Memory: 4 GB RAM
Graphics: Nvidia GeForce GTX 660, 2 GB | AMD Radeon HD 7850, 2 GB
DirectX: Version 11
Storage: 4 GB available space
Sound Card: DirectX compatible soundcard
Patch 1.0.1:
Reduced loading pauses during gameplay
Updated translations for some Spanish and French terms
Various bug fixing